Continuous production is important
North Well Gefro's expert staff keep your costs to a minimum by means of rapid response and fast delivery of production, repairs, maintenance and documentation of mechanical equipment to the oil and gas industry.
North Well Gefro has a substantial production capacity, which makes us one of Norway's leading machining and mechanical-engineering plants for the oil industry. By means of a high level of service, efficient logistics and flexible teamwork, we continually strive to be an attractive supplier within our disciplines and technical fields.
Questions about our services, or would you like to discuss a potential project? Feel free to contact one of our employees to find out how we can help you and your company.
High competence and specially adapted equipment
Machining
Our machining department consists of highly skilled operators with high competence in both repair, maintenance and new production of oil-related equipment.
Welding
Our welders perform application welding and butt welding on well and drilling equipment. We have a significant number of approved welding procedures.
We collaborate with Randaberg Group for work that requires a mechanical department. As part of the Randaberg Group, we can supply a wide range of services and deliveries of equipment to the mechanical industry.
Zero harm to personnel, environment & material
NWG commits to fulfil the requirements of relevant standards, laws and regulations and continually maintain and to improve our management system.
NWG is certified in accordance with ISO 9001:2015 and ISO 3834-2 standards. The company works according to ISO 14001:2015 and ISO 45001:2018. NWG is registered in Magnet JQS.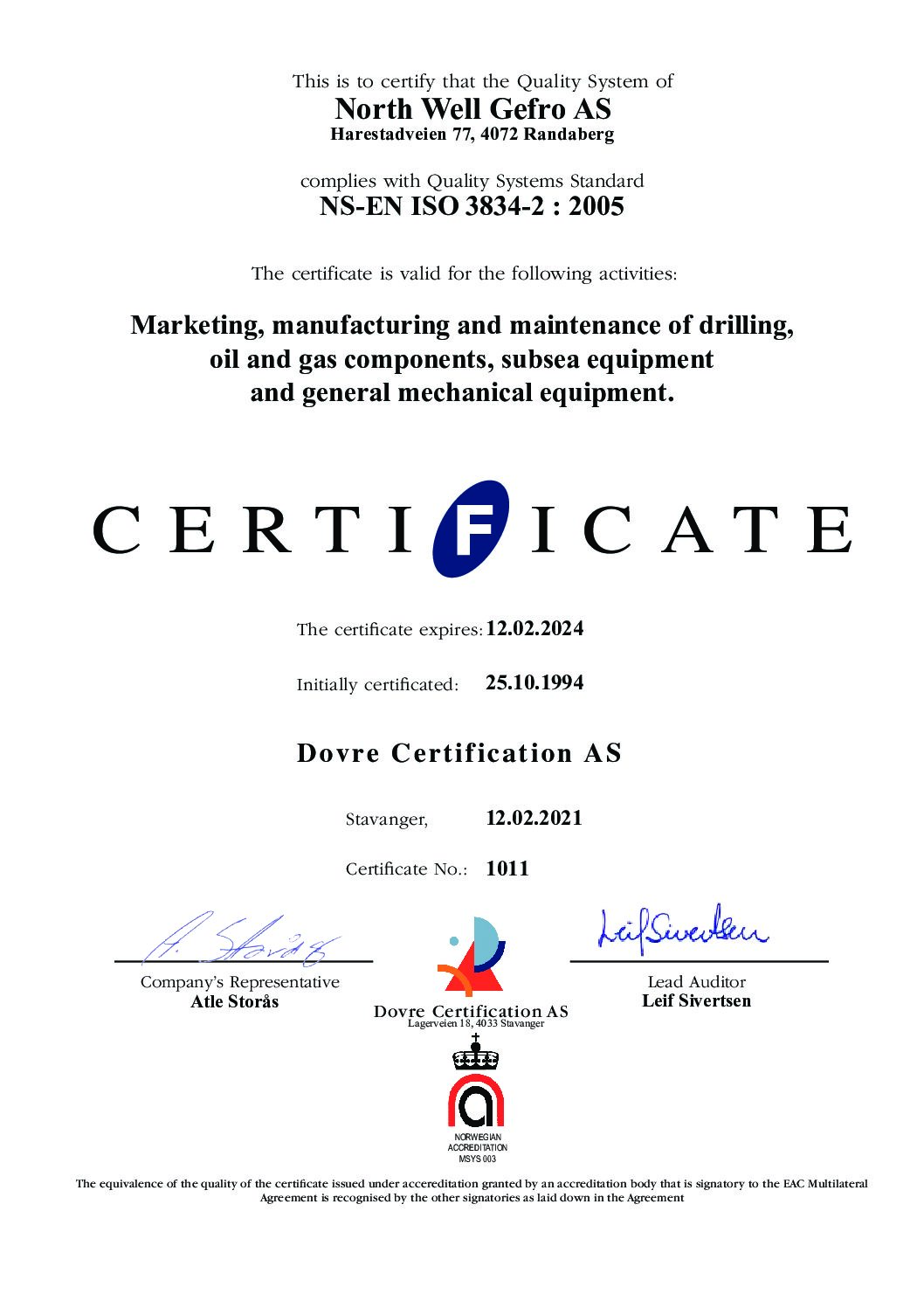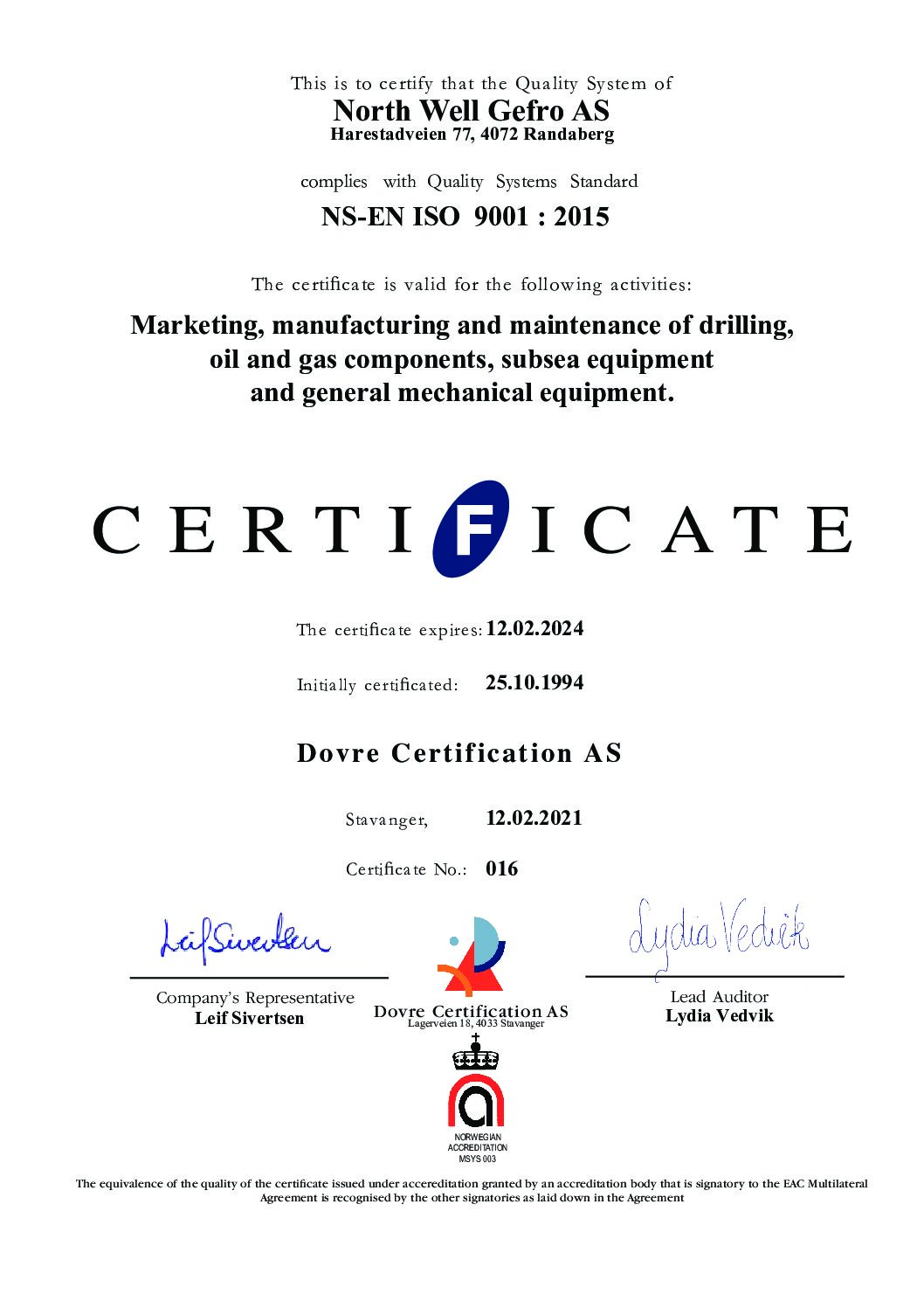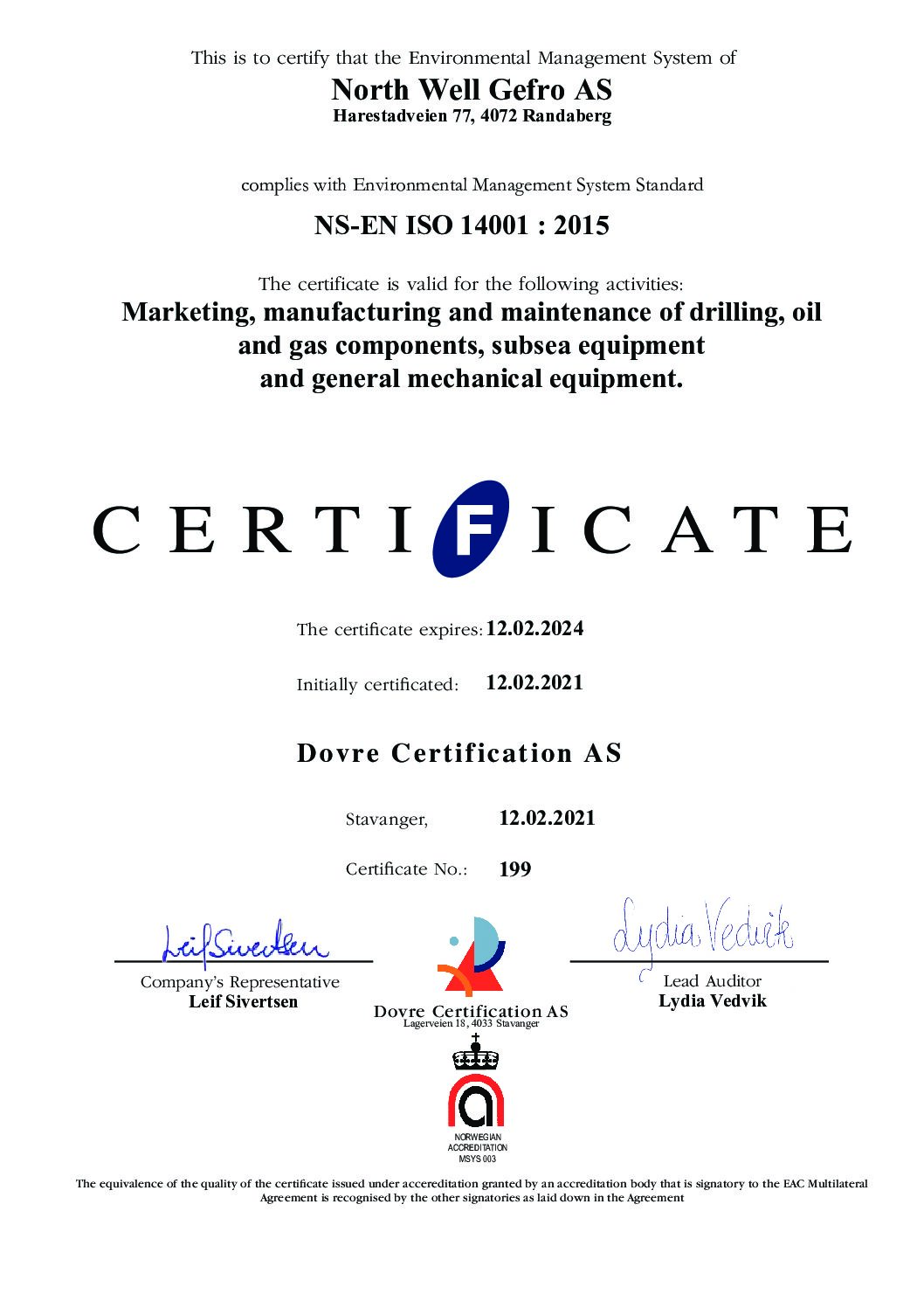 Click a certificate to read more
Full range quality since 1980
Ever since 1980, NWG has been a quality provider and a preferred supplier within machining, welding and mechanical services in Norway. Read more about the history of NWG and how our experiences and qualities will come to your advantage.
In recent years, the main delivery has been aimed at the oil and gas industry, but our expertise and experience enable us to deliver to other industries as well.
North Well Gefro is one of the country's leading mechanical workshops in the production and maintenance of mechanical equipment.
Health, environment, safety and quality are an integral part of all our activities.
North Well Gefro focuses on continuous training at all levels.
Square meters of indoor facilities
Square meters of outdoor facilities