Zero harm to personnel, environment & material.
We work towards "zero harm" to injuries and accidents.
NWG is certified in accordance with ISO 9001:2015 and ISO 3834-2 standards. The company works according to ISO 14001:2015 and ISO 45001:2018. NWG is registered in Magnet JQS.
Quality
NWG commits to fulfil the requirements of relevant standards, laws and regulations and continually maintain and to improve our management system.
Our company is built on openness, sharing of knowledge and best practice across the organisation. We will promote a stimulating work environment for personal and professional development.
We will strive to meet our customers' requirements, needs, expectations and desires. The company will work to create an environment for improvements to drive competitiveness for NWG as well as for our customers. This will be the foundation for further development of products, processes and market opportunities. We aim to be the preferred business partner within high professional skills and ethics policies.
Our demands for quality apply to all employees and for our suppliers. Our employees shall be ambassadors for NWG's values and management principles.
HSE
We work towards "zero harm" to injuries and accidents. NWG believes that all accidents can be prevented. This is achieved by a visible management commitment, the implementation of systematic internal control measures, risk evaluations and initiatives to continually identify and reduce health hazards and environmental risks.
Health, Safety and Environment shall be an integral element in all planning and execution of our activities and we are committed to meet relevant laws and regulations.
Safety and active engagement among our employees will be a significant factor in our corporate philosophy.
NWG believe that high employee satisfaction is necessary for high performance and for sharing of knowledge, stimulating of new ideas and best practice.
Get in touch
North Well Gefro
Harestadveien 77,
4072 Randaberg
Phone:
(+47) 51 71 88 00
Email:
firmapost@nwg.no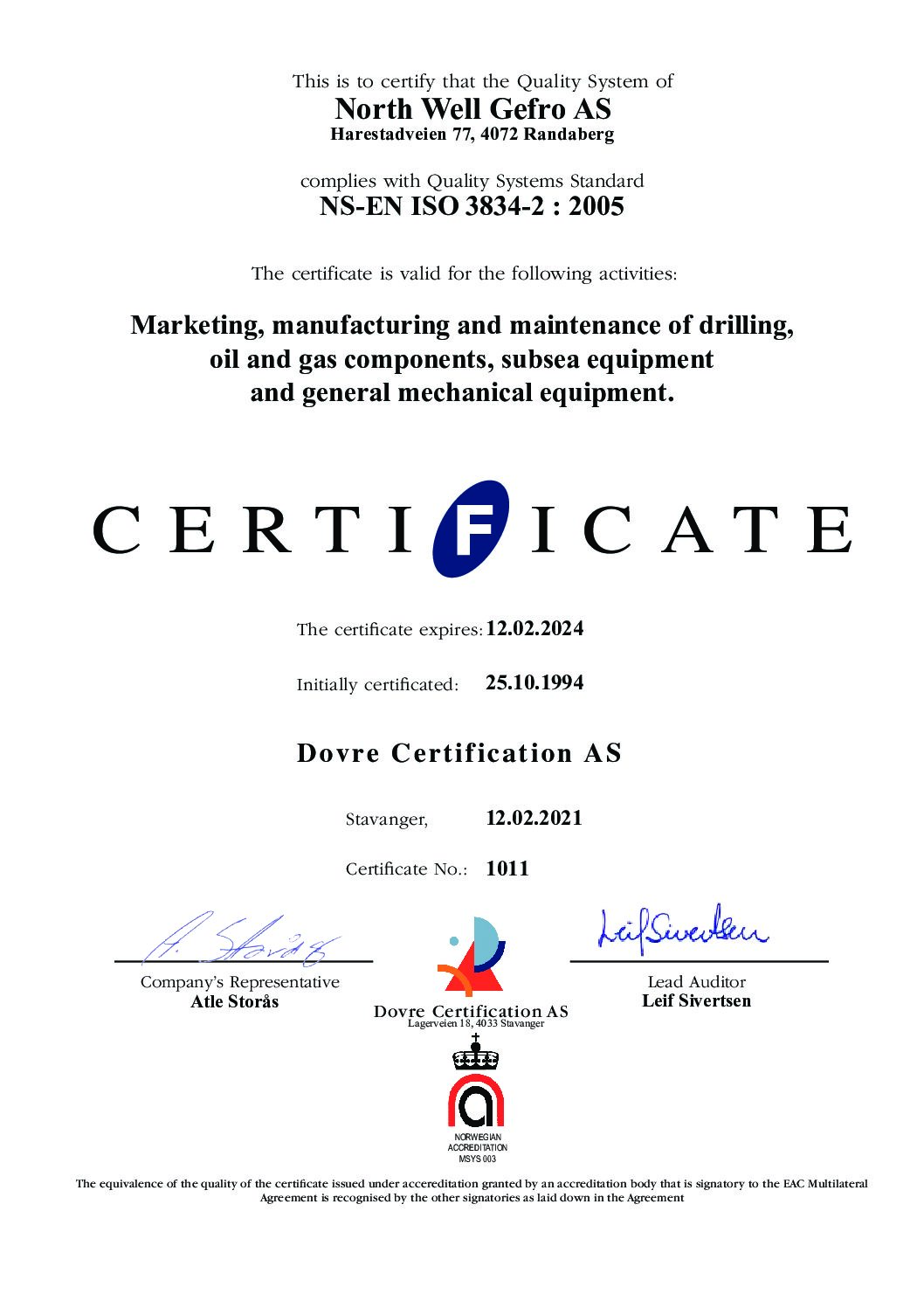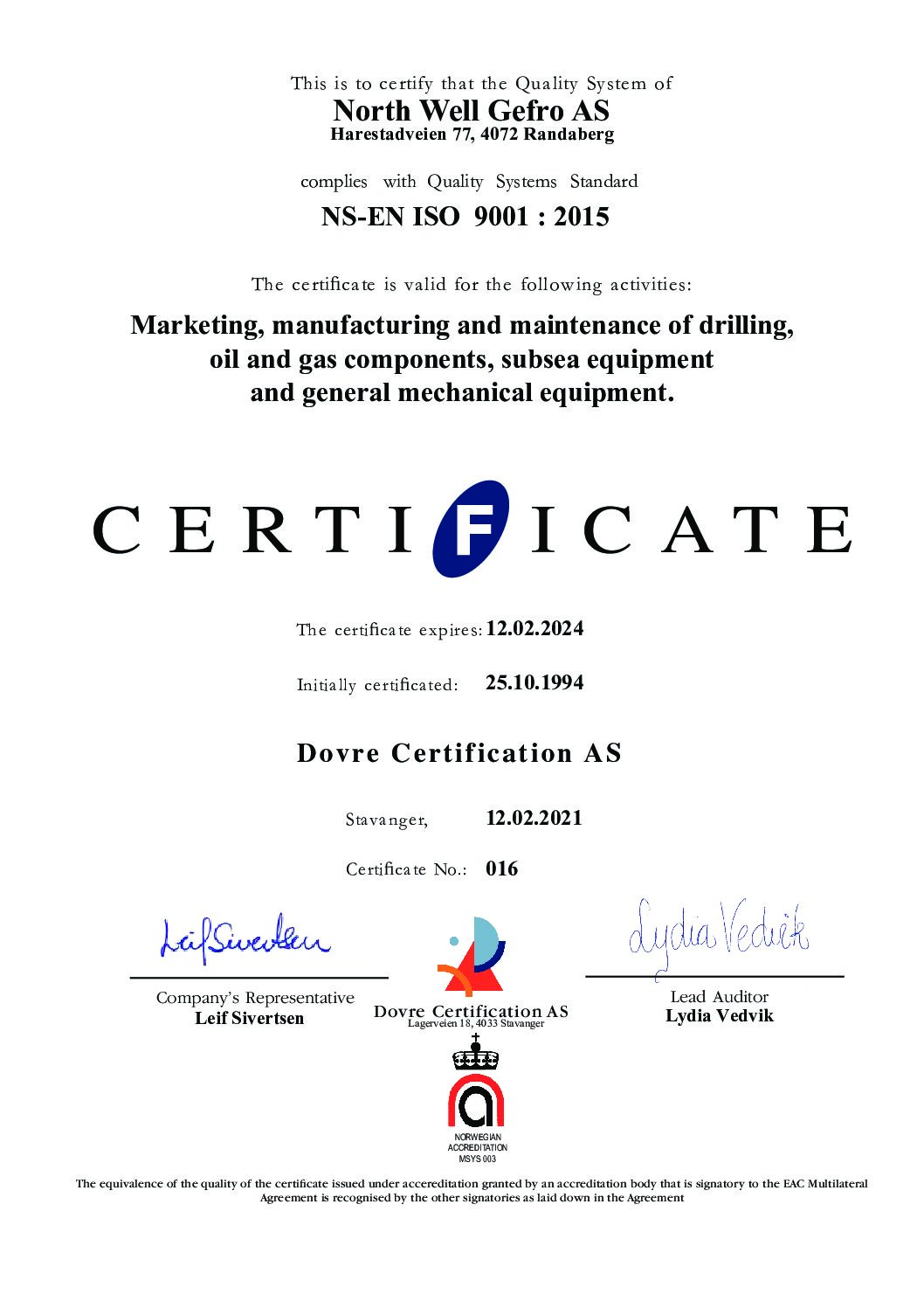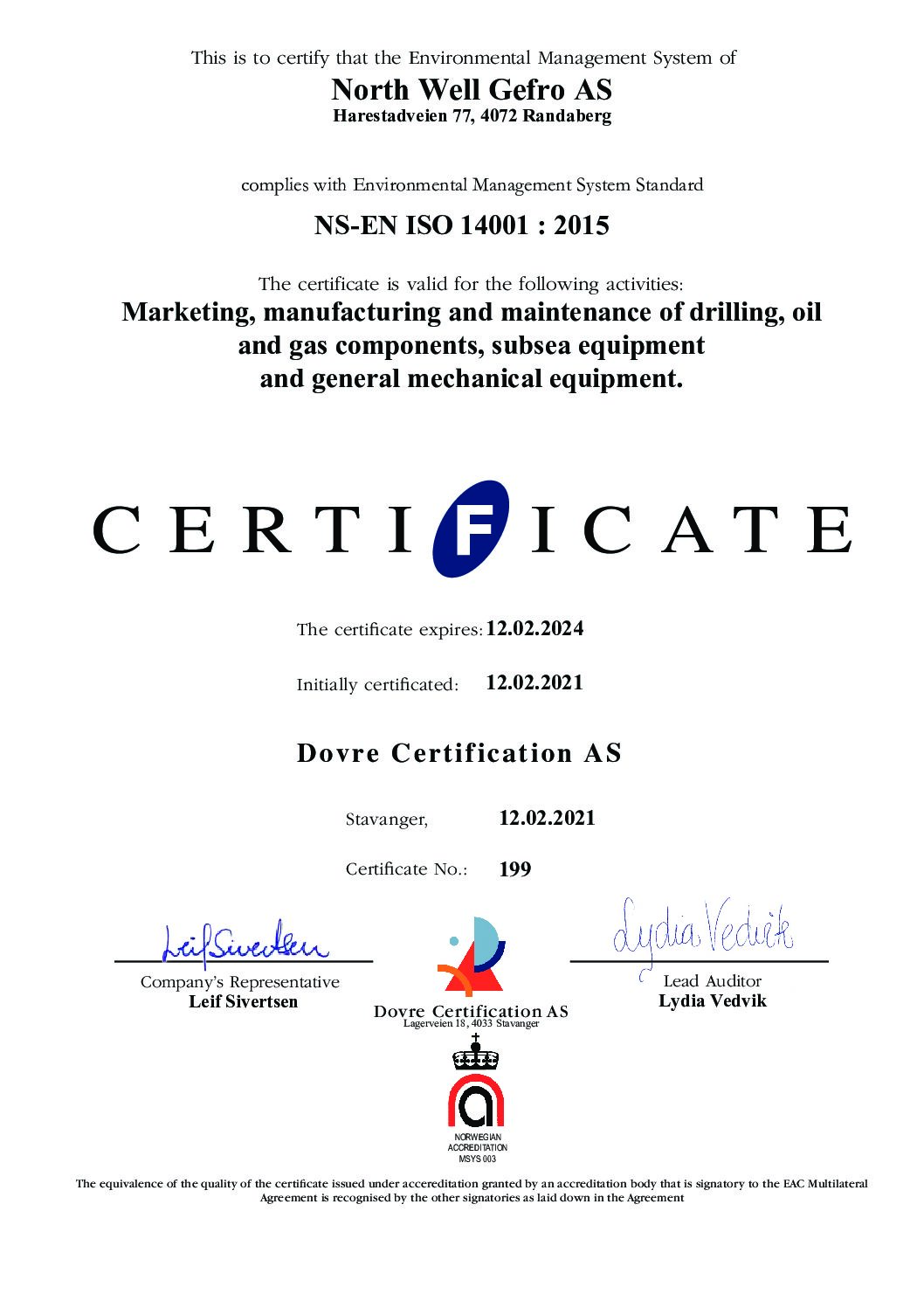 Environment
NWG works towards "zero harm" to environmental damage and accidents. NWG commits to continuously improve our environmental system and preventing pollution.
We are committed to limit negative impact on the environment in all our activities.
We shall improve control of environmental issues, and demonstrate active engagement and ensure the importance of safety with suppliers.
We are committed to comply with applicable laws and regulations as the organisation imposes regarding its environment aspects.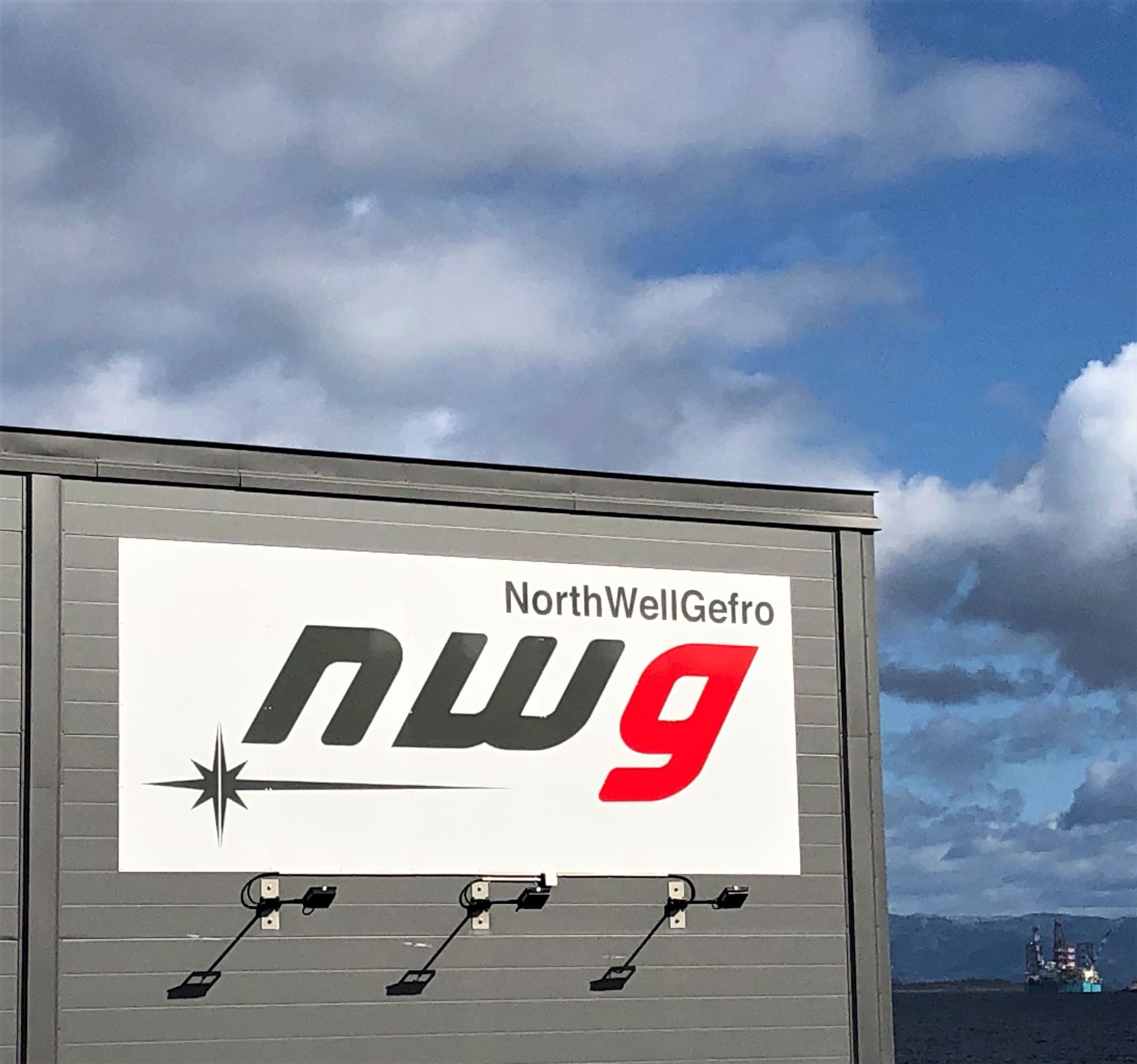 Social responsibility and integrity policy
We expect all to respect others and act in accordance with the company values.
We will achieve this by:
Maintain high business conduct and be ethically conscious in our daily work to ensure NWG's integrity.
Fulfil relevant requirements of the United Nations Guiding Principles on Human rights, and respect laws and local practice.
Promote respect for, and observance of, human rights for all without distinction as to age, marital status, gender, sexual orientation, religion, nationality or ethnicity and encourage human diversity.
Identify and understand the potential of how social and cultural aspects impact on how we work.
Lead our business activities in an ethical manner and promote free competition between suppliers.
To counteract all kinds of corruption.
Contact North Well Gefro for a nice chat about your project
We are located in new premises at Harestadvika Industrial Area in Randaberg. Large scale capacity, advanced technology, first-class machinery and modern installations on the design and production side take care of all our functions as a skilled and reliable total supplier.